February 5 - 12, 2016
Marywood Center, St. Johns, FL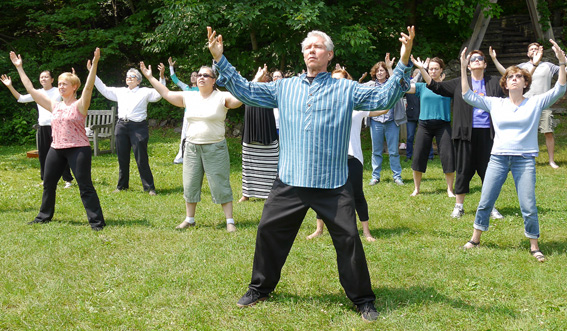 Photo Credit: Bill Wrenn
Benefit from Dr. Roger Jahnke's 40 years of expertise and the experience of our IIQTC training team!
Over the decades, we've trained thousands of individuals to restore their personal health and well-being, reduce their stress, and increase their stamina with Qigong, self-care practices with roots in traditional Chinese medicine, and cousin to the moving meditation and martial art Tai Chi Chuan.
In this 7 day all-inclusive Level 1 Integral Qigong intensive, the first training in the Integral Qigong and Tai Chi 200 hour Instructor Certification at Marywood Center, in St. Johns, FL, service professionals and sincere seekers alike can benefit from the Institute of Integral Qigong and Tai Chi (IIQTC) comprehensive training, science, philosophy and principles of mind-body practice and holistic living.
Easy, Effective, and Evidence Based
Whether you enroll in Level 1 as a personal retreat or desire to lead others, this training will benefit you!
Any established professional wanting to add an additional income stream.

People desiring to learn Qigong and Tai Chi in a focused retreat experience.
Yoga teachers, personal trainers, coaches, massage therapists, ministers, nurses, teachers, social workers and more -- anyone who works with people and shows them alternatives and strategies for healing, greater wellness and peak performance.
Career changers who are interested in developing their natural teaching and leadership skills.
Tai Chi and Qigong professionals wishing to learn and experience a successful, integrated teaching method to present Mind-Body Practice to diverse audiences, in any venue.
With a great foundation like the Level 1 Integral Qigong Practice Leader Training, you can start teaching right away.
| | |
| --- | --- |
| | Dr. Roger Jahnke, the Director and Founder of the Institute of Integral Qigong and Tai Chi (IIQTC), and the author of The Healer Within and The Healing Promise of Qi, has studied Tai Chi, Qigong and Chinese medicine for over 40 years, and is renowned for the clarity, depth, compassion and humor of his teaching style. |


Register Here | Marywood Center and Travel Directions | LEVEL 1 - Here's What You Will Learn
Got Questions?
Phone 805-617-3390 or email iiqtc@healthaction.net