We Want You to Be There!
Won Dharma Center, Claverack, NY
June 3 - 10, 2016
About Level 2 Integral Tai Chi Practice Leader Training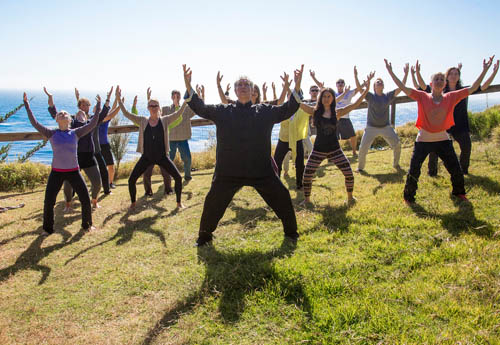 Tai Chi is a moving form of Qigong that can be done as a martial art or for health enhancement.
The concept of Tai Chi, meaning "supreme ultimate" is actually the name of the Yin-Yang symbol. The moving meditation and internal martial art Tai Chi is named for this concept, where opposites are in dynamic state of balance and harmony. When you practice Tai Chi, you are actually investigating universal forces and activating Yin and Yang to produce harmony within.

The focus and calmness cultivated by the practice of Tai Chi facilitates optimum health, balance, and harmony by relieving the physical effects of stress on the body and mind.
Key health benefits include:
Relief of chronic pain
Stress reduction
Improved sleep quality
Improved cardiovascular fitness, including lower blood prssure
Improved balance and coordination for falls prevention
Cognitive capacity retention (brain plasticity)
More energy
Traditional forms of Tai Chi can take years to learn, but the health benefits of Tai Chi are much more easily accessible with simplified or shortened forms. In order to make the health benefits of Tai Chi more readily accessible to every one, the IIQTC has created the Integral Tai Chi Teaching System. You'll benefit from the integral approach as you share it with others.
The IIQTC approach to Tai Chi is focused on
balance and harmony of Spirit, Mind and Body
Integral Tai Chi™ is not simply a Tai Chi form; it is a Tai Chi teaching method that is assured to sustain student enthusiasm and accessibility. In the Integral Tai Chi™ framework we focus on the essential Tai Chi principles to give the form life!
Integral Tai Chi Qigong is a simplified approach (can be medical or therapeutic) in which the complexity of the footwork is postponed for ease of learning. Tai Chi Easy™ is composed of a smaller subset of Integral Tai Chi, plus the Qigong practices from The Healer Within, which you learned in Level 1. We will learn to teach Tai Chi Chair™ and Tai Chi Mirror™, these carefully simplified approaches to Tai Chi are designed to create the maximum positive effect.

Upon conclusion of this training you are fully prepared to teach both Tai Chi Easy™ and Integral Tai Ch™. They are an easy and fun way to get large class enrollments – people like the sound of Tai Chi and they love easy.

The traditional principles of Tai Chi and Qigong are the heart of the Integral Tai Chi ™ program. Level 2 is primarily focused on Integral Tai Chi PLUS deepening review of all the material from Level 1.
Level 1 Integral Qigong Course Work Review Includes:
Gentle movement, breath practice, self massage, and meditation from the acclaimed The Healer Within, distilled from the Vitality Medical Qigong (Bu Zheng Qigong)
10 Phases of Cultivation and Mastery from The Healing Promise of Qi. Practices from the 9 Phase Integral Qigong™ Form are integrated from an array of traditional ancient forms.
Traditional practices of Tendon Changing and Marrow Bathing
Contemporary practices of Spontaneous Qigong and Seven Precious Gestures
Guolin Health Recovery Qigong
Qigong Eyesight Restoration
Nei Dan (Inner Alchemy)
You will be learning Integral Tai Chi (9 form) and Tai Chi Easy™ (5 Form) - Video Sample Below