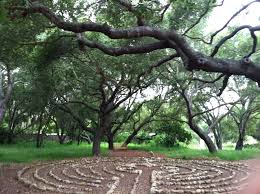 Learn, practice and teach Tai Chi on sacred ground. La Casa de Maria is an interfaith retreat and conference center located in the beautiful foothills above the Pacific Ocean, in Santa Barbara, CA. For half a century, the historic 26 acre retreat center has preserved a serene rural beauty — a timeless sense of peace.
Every year, approximately 12,000 people benefit from a retreat or workshop at La Casa de Maria. Countless spiritual leaders and new thought leaders have held programs at the La Casa de Maria and over 250 faith-based, educational and nonprofit groups come to learn, reflect and grow.
In 2006, U.S. News & World Report cited La Casa de Maria as "one of the U.S. best retreats." Set in a secret garden, guarded by woodlands, its ambiance is that of a much-loved country home through which many generations have passed and left their mark.
Enjoy the sacred feeling of the La Casa de Maria grounds which includes a labyrinth and lovely nature trails with access to the mountains. Close your eyes and visualize yourself in this beautiful setting. Breathe in deeply and feel calmnesss around you. Imagine yourself practicing mindful movements and easing into the peaceful, centered heart of your retreat at La Casa de Maria.

Directions to La Casa de Maria
800 El Bosque Road
Santa Barbara, CA 93108

La Casa de Maria is nestled between the mountains and the ocean, in the small town of Montecito on the southern edge of Santa Barbara, CA. It is 2 miles from U.S. Highway 101, approximately 90 miles north of Los Angeles and 90 miles south of San Luis Obispo. La Casa de Maria is a 10 minute drive from the beach, the Santa Barbara Harbor and downtown Santa Barbara.

La Casa de Maria Retreat Center is located at the base of the foothills about 2 miles from the San Ysidro Road exit off Highway 101. El Bosque Road is a narrow turning close to Montecito Upper Village. From 101 take San Ysidro exit for El Bosque.
From Santa Barbara (about 5 miles): 101 south to San Ysidro Road. Left onto San Ysidro Road about 1 mile to East Valley Road (the second signal light) in the Montecito Upper Village. Right on East Valley Road about 2/10 mile to El Bosque Road. Left on El Bosque which ends at La Casa de Maria.
From Los Angeles (about 90 miles): 101 north to San Ysidro Road. Follow directions above.
AIR TRAVEL
Los Angeles International Airport (LAX) (100 MILES AWAY): Santa Barbara Air Bus runs 16 scheduled trips to and from daily service to Los Angeles International. Stops at several locations in Santa Barbara; the most convenient to La Casa de Maria is Santa Barbara - Hyatt Hotel 1111 E. Cabrillo Blvd. (805) 964-7759.
Santa Barbara Municipal Airport (SBA) (15 MILES AWAY): For greatest convenience, we recommend making reservations with Santa Barbara as your final destination. Flights connect from Los Angeles, San Francisco, Seattle, Phoenix, Las Vegas, Denver, and Dallas Fort Worth. Visit the Sant Barbara Municipal Airport's official website for further information. Taxi and shuttle fares range from $34 to $56 one way to La Casa, if reservations are made in advance.
Burbank Airport (BUR) (89 MILES AWAY) has Amtrak Pacific Surfliner service nearby connecting to Santa Barbara.
TRAIN
Amtrak (5 MILES AWAY): The Amtrak station is located at 209 State Street, about 5 miles from La Casa de Maria. A taxi is the best way to travel from the train station to La Casa. Arrangements can be made in advance for additional savings.

Questions About Your Travel? Need Assistance?
Call us at 805-617-3390 or email at iiqtc@healthaction.net