THIS EVENT IS SOLD OUT!!
August 27 - 28, 2016
Town & Mountain Training Center
Asheville, North Carolina
Saturday, August 27
9:00 am - 5:30 pm

Sunday, August 28
9:00 am - 5:30 pm
3 Medicines for the 3 Treasures
The 3 Treasures – Jing, Qi, Shen – are the theoretical foundation of Traditional Chinese Medicine and the amazing practices of Qigong and Tai Chi. These 3 Treasures represent body, mind, and spirit -- aspects of our being as well as the Earth below, the Heaven above and the richness of our own Life between Heaven and Earth.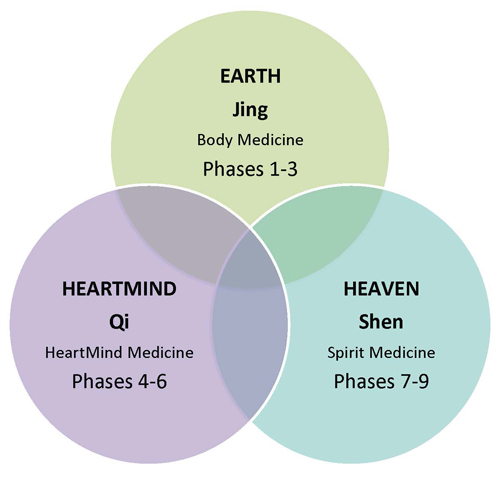 Ancient shamans and contemporary quantum scientists of longevity and transformative energies agree that cultivation of of your vital energy or Qi -- Qigong -- is one of the most eloquent forms of mind-body practice and energy medicine.

In this weekend Qigong workshop led by Dr. Roger Jahnke you will learn 9 Phase Integral Qigong™, Qi cultivation practices integrated from revered traditional ancient forms, directly correlated with the powerful framework of the 3 Treasures  - Body Medicine, HeartMind Medicine, and Spirit Medicine.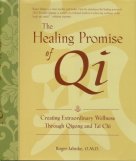 Discover your own natural inner power through these transformative Qigong practices distilled in Dr. Jahnke's book The Healing Promise of Qi: Creating Extraordinary Wellness Through Qigong and Tai Chi following 9 research trips to China and 35 years in clinical practice as a Doctor of Chinese Medicine.
This phased 3-fold approach is a reflection of time-honored ancient traditions of practice — Inner Alchemy -- that will support you to deepen your connection to the timeless, eternal aspects of your being and immediately benefit your physical health and well-being today and for the rest of your life.
About Dr. Roger Jahnke

Roger Jahnke, OMD is the Director and Founder of the Institute of Integral Qigong and Tai Chi (IIQTC) based in Santa Barbara, CA, and the author of The Healer Within and The Healing Promise of Qi. Dr. Jahnke, a Doctor of Chinese Medicine, has studied Tai Chi and Qigong for over 40 years, and is renowned for the clarity, depth, compassion and humor of his teaching style.
Qigong workshop fee is $189, and includes:
Workshop tuition
EBook
Certificate of completion
Break refreshments
About Asheville, North Carolina
| | |
| --- | --- |
| | Asheville is a vibrant welcoming city in western North Carolina's Blue Ridge Mountains, known for its vibrant arts scene, healing resorts, outdoor adventure, and historic architecture. The mountain location and elevation makes for cooler temperatures that other areas in the Southeast even during the month of August. Asheville, NC is within driving range of Atlanta, Nashville, Roanoke, Charlotte, and Charleston. |
Directions to Town & Mountain Training Center
Town & Mountain Training Center
261 Asheland Ave, Ste 103
Asheville, NC 28801

Town & Mountain Training Center is located behind Town and Mountain Realty at 261 Asheland Avenue on the south side of downtown Asheville. It has lots of parking and is located within walking distance of numerous restaurants perfect for our lunch breaks.
There are a large number of restaurants serving a variety of foods are available in many different price ranges. Asheville is always rated in the Top 10 places for vegetarian food and almost all restaurants have vegetarian and vegan options. And of course Carolina barbecue and southern dishes are also well represented.
Asheville Regional Airport (AVL) offers non-stop flights and easy connections through the major US hubs of Atlanta (ATL), Newark (EWR), Chicago (ORD), LaGuardia (LGA), and Charlotte (CLT), as well as service from Orlando (SFB), Fort Lauderdale (FLL), St. Petersburg/Clearwater (Tampa Bay area) (PIE), Palm Beach (PBI), Fort Myers/Punta Gorda (PGD). In season, with approximately 25 round trip flights per day, a non-stop flight or one connection can get you to Asheville from just about anywhere. Located 10 miles (approximately 15 minutes) from downtown, AVL is served by major rental car companies as well as a host of other ground transportation providers.

GreenvilleSpartanburg, SC (GSP) is only 1 hour and 20 minutes from Asheville.

Charlotte International Airport (CLT) is a beautiful 2 hours and 20 minute drive from Asheville.
Lodging Suggestions
More lodging ideas in Asheville Digital Travel Guide
Aloft Asheville Downtown
51 Biltmore Avenue
Asheville, NC 28801
Phone: 828-232-2838
Central Reservations: 866-716-8143
Downtown Inn & Suites
120 Patton Avenue
Asheville, NC 28801
Phone: 828-254-9661
Four Points by Sheraton
22 Woodfin Street
Asheville, NC, 28801
Phone: 828-253-1851
Hotel Reservations: 866-716-8133
Hotel Indigo
151 Haywood Street,
Asheville, NC 28801
Phone: 800-951-4667 or 828-239-0239
Renaissance Asheville Hotel
31 Woodfin Street
Asheville, NC 28801
Phone: 828-252-8211
Event Cancellation Policy
All cancellations must be made in writing to email refunds@healthaction.net.
Cancellations made by Friday, August 12, 2016 will qualify for a full refund less a 10% administration fee plus credit card charges if applicable. If a refund is due, Health Action Inc will provide a refund to your method of payment within 10 days after the conclusion of the event.
There will be no refund for cancellations made on or after August 12, 2016, if you do not attend the workshop, or you leave once the workshop begins.
The sponsors of this event reserve the right to cancel this workshop, and in that event your payment will be refunded in full.