For info on pricing, schedule, and to
register click here or the button below:


Ancient Chinese philosophy honors the Mind-Body-Spirit connection and values simplicity in daily life. Lao Zi says, "In pursuit of average goals, every day something must be gained. In the practice of the Way of Harmony, every day something is given up. When you align with natural forces, nothing essential is left undone."
When you align with natural forces by conscious cultivation of your vital energy or Qi, it can have profound effects on your body, mind, and spirit. Qigong, also known as Chinese Yoga, combines self-care with self-realization practices, by integrating movement, posture, breathing, and awareness into a 'moving meditation.'
Ancient shamans and immortals AND contemporary quantum scientists of longevity and transformative energies agree that cultivation of Qi — Qigong — is one of the most eloquent forms of mind-body practice, empowerment, mindfulness and energy medicine.
In this Qigong retreat, awaken personal healing and open the gateway to transformation with Healer Within™ Medical Qigong and 9 Phase Integral Qigong™, Qi cultivation practices correlated with the powerful framework of the 3 Treasures. The 3 Treasures – Jing, Qi , Shen – are the theoretical foundation of Traditional Chinese Medicine and philosophy and the amazing practices of Qigong and Tai Chi. These 3 Treasures represent body, mind, and spirit -- aspects of our being as well as the Earth below, the Heaven above and the richness of our own Life between Heaven and Earth.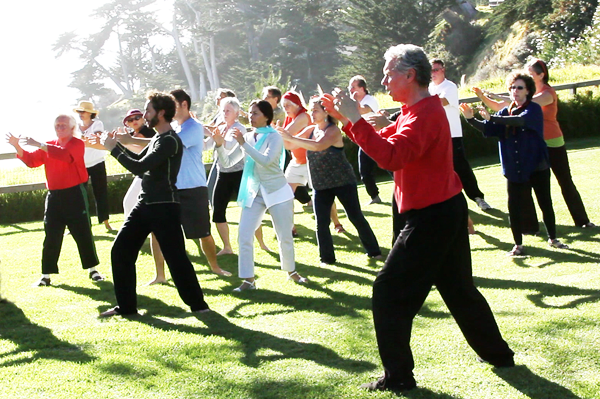 You will learn and practice:
Acclaimed Healer Within™ Medical Qigong -- gentle mindful movement, breath practice, self massage, and meditation -- distilled from Vitality Method or Bu Zheng Qigong, an approach to Qigong carefully tailored for the mainstream, from Dr. Jahnke's book The Healer Within.

Practices from the 9 Phase Integral Qigong™ Form are integrated from an array of traditional ancient forms from Dr. Jahnke's perennial classic The Healing Promise of Qi: Creating Extraordinary Wellness Through Qigong and Tai Chi.
Join Dr. Roger Jahnke at Ancient Yoga Center in the Texas Hill Country, the perfect place to start or deepen your Qigong practice. You'll create a personal renaissance of vibrant health, well-being, and creativity.
This workshop is suitable for all levels.
About Dr. Roger Jahnke

Roger Jahnke, OMD is the Director and Founder of the Institute of Integral Qigong and Tai Chi (IIQTC) based in Santa Barbara, CA, and the author of The Healer Within and The Healing Promise of Qi. Dr. Jahnke, a Doctor of Chinese Medicine, has studied Tai Chi and Qigong for over 40 years, and is renowned for the clarity, depth, compassion and humor of his teaching style.
Directions to Ancient Yoga Center

Recommended Reading and Viewing
The Healer Within: Using Traditional Chinese Techniques to Release Your Body's Own Medicine
The Healing Promise of Qi: Creating Extraordinary Wellness Through Qigong and Tai Chi

The Healer Within Video Library

Tai Chi & Qigong Way Membership Site