As an Institute of Integral Qigong and Tai Chi Teacher trainee, you will launch your professional training in Mind-Body practice with in-depth exploration of Qigong and Tai Chi. Our goal is to present these ancient Qi cultivation arts accessibly and in thorough alignment with holistic principles, contemporary science and the practices and philosophies of Traditional Chinese Medicine.
Graduates of the Level 1 Community Qigong Practice Leader training are encouraged to begin teaching right away after Level 1. After completion of all 200-hour IIQTC course work, you will be eligible for application for Professional Certification in the National Qigong Association.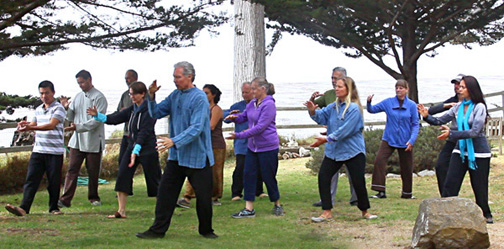 You will receive 2 Certifications in this 60 Hour Training!
In the Institute of Integral Qigong and Tai Chi Level 1 training, your first step, you will begin your journey with a Qigong intensive:
First, be Certified as a Healer Within™ Practice Leader by learning gentle mindful movement, breath practice, self massage, and meditation from the acclaimed Healer Within Practices. These practices are distilled from the Vitality Medical Qigong Method (Bu Zheng Qigong), an approach to Qigong carefully tailored for the mainstream, from Dr. Jahnke's book The Healer Within.

Next, to complete your Training and Certification as an Integral Qigong Community Practice Leader - Level 1, you will learn:

10 Phases of Cultivation and Mastery from Dr. Jahnke's The Healing Promise of Qi, a classic in the emerging literature of Chinese medicine, Mind-Body practice and Complementary Medicine. Practices from the 9 Phase Integral Qigong™ Form are integrated from an array of traditional ancient forms

Ancient traditional practices of Tendon Changing and Marrow Bathing

Contemporary practices of Spontaneous Qigong and Seven Precious Gestures
Guo Lin's Walking Qigong

Preliminary survey of Nei Dan (Inner Alchemy)
| | |
| --- | --- |
| Healer Within™ Practice Leader | Qigong Practice Leader - Level 1 |
Required Texts and Videos
Whether you are an experienced leader, avid practitioner or beginning student, it is strongly suggested that you acquire and utilize the following resources to prepare yourself for this Level 1 training. These materials are the foundation of the course work and will enhance your overall learning experience.

Continuing Education Available
There are Continuing Education Contact Hours available for Registered Nurses and NCCAOM Professional Development Activity (PDA) for Acupuncture. For inquiries, contact the Diane Cardamone at 805-617-3390 or email her
diane.cardamone@healthaction.net.
Important Links
Level 1 Training Details - Here's What You Will Learn

Level 1 FAQ