The First of Three Trainings Toward 200 Hour
Integral Qigong and Tai Chi Certification

March 3 - 10, 2013
CYJ Retreat Center
Wimberley, TX
Gathering Celestial Qi at CYJ 2008 (Photo Credit Nancy Jo Hambleton)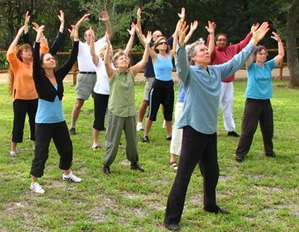 Over the years, we've helped thousands of people train to lead others in mind-body practice.
You can benefit from our experience and offer your students and clients great tools.
That's why we're holding this event on March 3-10, 2013. Great foundations mean you can start teaching right away.
Service professionals and sincere seekers alike can benefit by going deep, and learning the science behind the effects of mind-body practice and the principles that apply to years of martial arts training as well as "good living."
This Level 1 Community Practice Leader training will benefit:
An established professional wanting to offer more.

People who always wanted to learn about Qigong and Tai Chi in a concentrated retreat experience.
Yoga teachers, coaches, massage therapists, ministers, nurses, teachers, social workers and more -- anyone who works with people and shows them alternatives and strategies for wellness and high performance.
Career changers who are interested in developing their natural leadership skills.
Tai Chi and Qigong professionals wishing to learn and experience a successful approach to presenting mind body arts to diverse audiences.

REGISTER NOW | ABOUT CYJ AND TRAVEL DIRECTIONS

FAQ | LEVEL 1 TRAINING DETAILS