Make 2017 Your Transformative, True Calling Year!
New You, New Professional Evolution, New Qi!
Ancient Yoga Center,
Austin, TX
March 17 - 24, 2017
A couple of spots have opened up for this training at Ancient Yoga Center.

If you are interested in attending, please call Sheri Hansen in IIQTC Finance/Contracts at 805-967-3825 right away. Thank you!
"If you want to be healthy and live to 100, practice Qigong!" ~ Dr. Memet Oz
First of 3 Trainings Toward 200 Hour Integral Qigong and Tai Chi Instructor Certification
Over the decades, we've trained thousands of people to
Transform their own lives and
Lead others in simple yet powerful self-care Mind-Body Practices -- Qigong and Tai Chi.
Dr. Roger Jahnke's 40 years of expertise and the experience of our IIQTC Team will refine your skills and confidence so you can empower yourself, your students and your clients with easy and effective — yet deep and inspiring -- ways to maximize health, well-being, and inner peace in just a few minutes a day.
SO, if you want to be trained by Dr. Roger Jahnke, OMD
Don't Miss this FINAL Opportunity!!!
Level 2 November 12-19, 2017 and Level 3 Spring 2018 also with Dr. Jahnke.
---
With a comprehensive foundation like the Level 1 Integral Qigong Practice Leader Training, you can start teaching right away.
Professionals as well as sincere seekers alike can benefit from the IIQTC comprehensive training, science, philosophy and principles of mind-body practice and holistic living. Whether you enroll in Level 1 as a personal retreat or the next step in your career, this training will benefit you.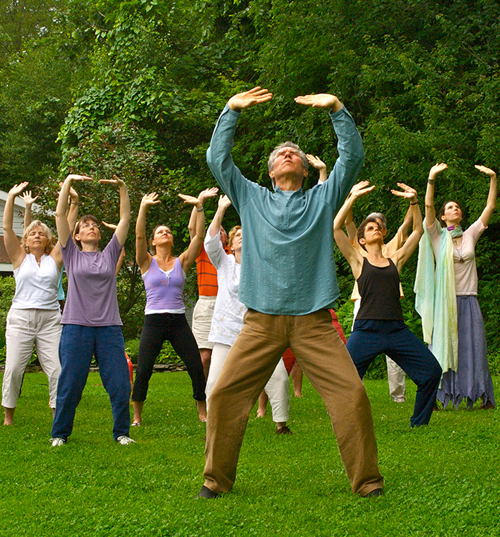 This Level 1 Integral Qigong Leader training will benefit:
Any established professional or Mind-Body Health and Wellness enthusiast wanting to add an additional income stream.

People desiring to learn Qigong in a focused retreat experience.
Yoga teachers, personal trainers, coaches, massage therapists, ministers, nurses, teachers, social workers, and more -- anyone who desires to offer effective mind-body self care practices for healing, stress reduction, wellness and peak performance.
Career changers who are interested in developing their natural teaching and leadership skills.
Tai Chi and Qigong professionals wishing to learn and experience a successful, integrated teaching method to present Mind-Body arts to diverse audiences, in any venue.

This 60-hour certification program, developed and refined over 20 years, is a thorough introduction to Qigong, an investigation of its origins, numerous Qigong methods, instruction of teaching and building a business and the theory, philosophy and research rationale for Qi cultivation.

About the IIQTC -- Institute of Integral Qigong and Tai Chi
IIQTC is internationally recognized as among the most respected training and research Institutes outside of China.


IIQTC has trained over 1,000 Teachers and Practice Leaders who have influenced over 100,000 students annually.
IIQTC Graduates are working in schools, universities, social service agencies, military bases, health care and hospital systems, Veterans hospitals, spas, retreats, corporations, fitness centers AND as entrepreneurial instructors.


IIQTC has participated in numerous research projects through the National Institutes for Health, and in collaboration with Mayo Clinic, University of Illinois Urbana-Champaign, Arizona State University, Rutgers University, and the Veterans Administration.


Director, Dr. Roger Jahnke, for 20 years Master Trainer, will remain Director of Training and Research.


Dr. Jahnke has traveled to China 9 times to discover the deepest insights from institutes, universities, master teachers and sacred mountain sites.
Testimonial from Kristen Musolino

"New Levels of Confidence and Experience"

"IIQTC Level 1 inspires a powerful sense of awe in simplicity. The camaraderie I experienced has deeply inspired my heart and mind to be resilient in times of chaos and complexity. I have been able to slay the demons of anxiety and begin to see new levels of confidence and experience, a thirst for soaring high.


Participating in IIQTC Level 1 has opened doors for me to manifest my dream life and has supported me to more deeply explore, enrich, and empower my own practice so I can shine brightly for others."
~ Kristen Musolino, Certified Tai Chi Easy™ Practice Leader and IIQTC Level 1 Integral Qigong Practice Leader, New Jersey
Dr. Roger Jahnke, Master Trainer, Director and Founder of the Institute of Integral Qigong and Tai Chi (IIQTC), and the author of The Healer Within and The Healing Promise of Qi, has studied Tai Chi, Qigong and Chinese medicine for over 40 years, and is renowned for the clarity, depth, compassion and humor of his teaching style.

This is a rare and unique opportunity to train with Dr. Jahnke! Dr. Jahnke has elected to step aside from his role as Master Trainer to allow the brightest and most talented Graduates of the IIQTC Teacher Trainers to take over the future of the IIQTC.

This Level 1 training is the FINAL one that Dr. Jahnke will be leading! Complete your certification with Dr. Jahnke with Level 2 in 2017, and Level 3 in 2018.

Don't miss out!


Register Here | Ancient Yoga Center and Travel Directions | Here's What You Will Learn
Questions?
Phone 805-617-3390 or email iiqtc@healthaction.net