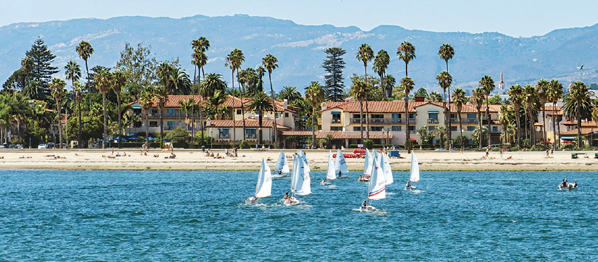 The Tai Chi Easy™ Practice Leader Training will be held at
Santa Barbara Veteran's Building
112 West Cabrillo Boulevard
Santa Barbara, CA 93101

Questions About Your Travel? Need Assistance?
Call us at 805-617-3390 or email at iiqtc@healthaction.net
If you have significant travel time to and from Santa Barbara, CA, consider arriving the day before, on Thursday, February 18, 2016 and staying over the evening of February 21, 2016 and enjoying Santa Barbara the rest of the week.
Training starts Friday, February 19, 2016 with check-in between 7:45 am - 8:15 am, and completes on Sunday, February 21, 2016 at 7:00 pm.
Getting Here

Fly directly into Santa Barbara Airport (SBA, with daily service to six nonstop cities (Denver, Los Angeles, Phoenix, Portland, San Francisco, and Seattle). If you fly into Los Angeles International Airport (LAX), book a ride on Santa Barbara Airbus, which carries passengers between LAX and Santa Barbara, Goleta, and Carpinteria. Or, take the train. Amtrak offers service to SantaBarbara, Goleta, or Carpinteria on two routes.

View Larger Map



From the North: 101 South to Santa Barbara. Take the Castillo St. exit toward the Harbor. Turn left on W. Cabrillo Blvd. Destination will be on your left.

From the South: 101 North to Garden St. Take the Garden St. exit and turn left. Drive .4 mile, and turn right on E. Cabrillo Blvd. Destination will be on your right. Note that Cabrillo Blvd becomes W. Cabrillo once you cross State St. (your landmark is Stearns Wharf; there is also a traffic light there).

Los Angeles International Airport (LAX): Santa Barbara Air Bus runs 16 scheduled trips to and from daily service to Los Angeles International. Stops at several locations in Santa Barbara; the most convenient to the Veteran's Memorial Building is Santa Barbara - Hyatt Hotel 1111 East Cabrillo Blvd. (805) 964-7759.

Santa Barbara Municipal Airport (SBA): For greatest convenience, we recommend making reservations with Santa Barbara as your final destination. Flights connect from Los Angeles, San Francisco, Seattle, Phoenix, Las Vegas, Denver, and Dallas/Fort Worth. Visit the SB Airport's official website for further information. A taxi ride from SBA to the Waterfront area will run approximately $28 1-way (Rose Cab)

Lodging Suggestions

Some hotels feature web only discounts, as well as AAA or AARP discounts. Book directly on the hotel website for your best rate.

Harbor House Inn
104 Bath St.
Santa Barbara, CA 93101
(888) 474-6789 | (805) 962-9745

Walking distance to training (about 2 blocks; 0.2 mile)
$172 - $257 a night Web Rates Best; book directly on hotel website.


Mason Beach Inn
324 West Mason St.
Santa Barbara, CA 93101


(800) 446-0444 | (805) 962-3203 

Walking distance to training (about 2-3 blocks; .3 mile)
$159-$169 night AAA & AARP Rates Best Rate; book directly on hotel website

The Eagle Inn
232 Natoma Avenue
Santa Barbara, CA 93101
(805) 965-3586

Walking distance to training (about 4-5 blocks; 0.4 mile)
$215 - $351 night

Motel 6 Santa Barbara
443 Corona Del Mar
US 101 at SR 225/South Milpas Street
Santa Barbara CA 93103
(805) 564-1392

About 12 long blocks away from the training (1.3 miles away). Will need a car and also need to pay for parking (up to $12 a day)
$117 - $124 night

Note the hotel occupancy tax rate for Santa Barbara is 12%. In addition, hotels will also charge you a daily Tourism Marketing Assessment fee. Check with your hotel to see what that fee is as they vary.

Other Lodging Options for the Santa Barbara Waterfront

Parking

City of Santa Barbara Harbor Main Parking - 2 to 3 blocks away from the Veteran's Memorial Building $2.00/day, $12.00 maximum per day. Other Waterfront parking options.

Getting Around Without A Car


Hop on the bus! Santa Barbara MTD (sbmtd.gov) operates the Downtown and Waterfront
Shuttles, traveling State Street and Cabrillo Boulevard.

About Santa Barbara, CA

Back to IIQTC Tai Chi Easy™ Practice Leader Training Landing Page | Register