January 25 - 30, 2015
La Casa de Maria, Santa Barbara, CA
Take advantage of Early Registration Discounts through December 12th.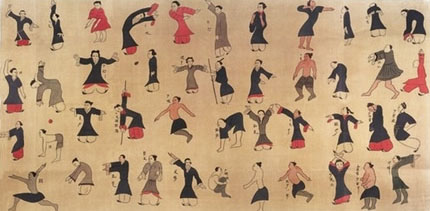 In Chinese, Tai Chi means the "balance and harmony" of natural forces within our world and ourselves. It also means "supreme ultimate," pointing to the awesome nature of all life and our own lives within the universe. Tai Chi, both moving meditation and martial art, is a widely practiced form of the ancient Chinese self-care practices known as Qigong. Qigong means to cultivate (gong) healing life energies and resources (Qi).
Tai Chi Easy™ is not "just" an exercise program that uses gentle movement to increase joint flexibility, circulation, range of motion and to maintain muscle strength. As a practice that Harvard calls "meditation in motion," the slow movements and mindset of Tai Chi can be used to manage stress levels by creating a a heightened sense of self awareness, mindfulness, empowerment and choice. The mind-body practices of Tai Chi Easy™ soothe and rewire the nervous system and increase cognitive and brain plasticity.
Our Tai Chi Easy™ Practice Leader Training is a step-by-step program detailing how to share simple Qigong and Tai Ch toimprove health, enhance longevity and promote inner peace, in our communities, schools, faith institutions, hospitals, community centers, and social service agencies. Tai Chi Easy™ is a safe activity for those with chronic health conditions and physical limitations.
And the best news yet, research evidence is mounting for the health benefits of Tai Chi Easy™ including:
Reduction in blood pressure
Improvements in mood
Balance and falls prevention
Stress mastery
Pain management
Energy enhancement
Improvement in sleep quality
Recovery from addiction and PTSD

Mor

e...
Want to know how Tai Chi Easy™ got started? Click Here for Dissemination and Benefits of Replicable Tai Chi and Qigong Program for Older Adults
A Few Testimonials and Endorsements for Tai Chi Easy™
"The regular practice of Tai Chi Easy provides significant health benefits for people of all ages. Tai Chi Easy helped me to recover rapidly from my own recent heart surgery." - James Firman, President & CEO, National Council on Aging, Washington, DC

"The wellness practices of traditional Chinese medicine -- Tai Chi and Qigong -- are among the best forms of physical activity for diverse populations since they are low cost, group based, low impact and relatively easy to learn". - The Consensus Report of the National Expert Meeting on Qi Gong and Tai Chi, National Blueprint for Physical Activity and the University of Illinois Urbana Champaign

"Tai Chi Easy is perfect package of mind-body wellness skills for the health and social service agencies in my area. I am so enthusiastic to have solidified my Tai Chi and Qigong teaching skills at this level of simplified community practice." - Valerie L. Fagan, LCSW, Complementary Therapies Facilitator, Regional Medical Center, Athens, GA
About the Institute of Integral Qigong and Tai Chi (IIQTC)
The Institute of Integral Qigong and Tai Chi (IIQTC) has graduates throughout the US, Canada, Europe, Asia and Central America, inspired and committed to bringing Qigong and Tai Chi to a broader audience. Our research initiatives continue to build the Institute's international credibility.
Whether you are using these trainings as a career shift or as a personal retreat to improve your health, vitality and inner peace, this event will be a profound opportunity to immerse yourself in healing and actualize your personal mission of community service. You will renew your body, mind and spirit just as intended by those ancient Qi masters of China who gave birth to Qi cultivation so long ago.
Register Now | Your Training Location, La Casa de Maria | Daily Schedule